Safety is a topic that a lot of new students ask questions about. I'm hoping that this article will highlight all the great resources that York currently offers so that students and their families feel well prepared for the year ahead.
Security Facts
The first place we need to start is with the facts. Taken from the Safety and Security Fact sheet which was recently updated in March 2014:
Safety Resources
Mobile App
York has a great Safety Mobile App available for iPhone, Android, and BlackBerry. It includes the following features:
Emergency alarm
Direct call to York Security
Emergency contacts
Tool box containing a flash light, direct links to email or send a picture to security, report any light outages, call maintenance, or access York's directory
Campus maps
Direct access to goSafe, campus shuttle information, and Van Go
Counselling and support information
Options to go to the SaferTogether website, and push notification – meaning if something happens on campus, your phone will notify you
Campus Shuttles
For those of you living in the Village or at Glendon, York has a free shuttle service! All of the routes and schedules are available on the safety website, however I will also post them here for your convenience.
Glendon Shuttle Schedule – currently reflects the summer schedule, check this website in the Fall 🙂
goSAFE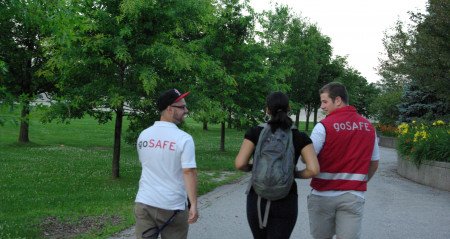 Have a night class and worried about walking to your car or the bus? goSAFE are student volunteers who will escort you from any on-campus location to any other on-campus location.
They are currently working 8pm-2am, however once school starts they will increase their hours to start at 6pm.
They can be reached by calling 416 736 554 or extension 55454, any on-campus payphone (for free), any blue light emergency phone and asking for goSAFE, any on-campus Safety Phone and pushing the goSafe button, and lastly the Safety App by pushing the goSafe button.
They generally can get to you within ten minutes of calling but you can also call in advance if you are worried about waiting.
Misc.
A number of other resources are available on the Safety Resources page, so I highly encourage you to at least scan the page and note any services that might be beneficial to you.