Hi Readers!
Can you believe it? This is my last post of the Winter semester…wow. I don't know if anyone else experiences this phenomenon but the Fall semester always seems to go by normally and as soon as the Winter semester starts, it seems to be over in a flash. It literally feels like reading week was just a week or two ago. Anyways, I'm definitely happy that the wintery weather seems to be over. I'm looking forward to that summer weather!
Since this is my last post of the winter I thought I would share some of my wishes to you, my readers, for your summer (semester).
—
Happiness
Whether you have work, school, a combination, or a free summer (luuucky) – find a bit of happiness in every day. Some days might be harder than others but there is always a ray of sunshine to lift your spirits. Maybe the weather is nice or you got to catch up with a friend you haven't seen in awhile, maybe you had a fab shopping trip or a night out on the town. Big or small, chase that happiness every day and don't lose sight of it.
Success
You're going to be waiting on your marks, perhaps even as your summer semester is starting. I wish you every bit of success. And remember – there are more ways to find success than just a numerical value. Maybe you walked away from a class with a lower than expected grade – but what else did you gain? Maybe you had a really great prof that challenged your thoughts and helped you see the world in a new way. Maybe a brutal class helped you realize that you want to change to a major that you are more passionate about. Both of these are great successes. And make sure you pat yourself on the back for all the pushing you had to do to finish those assignments, all those nights you had to stay up late to study. All those days you shared your thoughts in class or learned something new. Success comes in many different forms and I hope they all find their way to you.
Adventure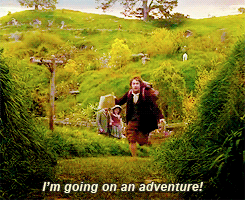 Summer tends to be the best time of the year for adventures, not only because us students tend to have more time on our hands, but also because the weather is quite a bit nicer and it's more enjoyable to be outside. Big or small, I hope you have the opportunity to engage in many adventures. Check out new restaurants. Walk through a new part of time. Hike in a provincial park. Make a challenge for yourself and beat it. Find out if your city is hosting any festivals or events and attend them. You don't need a lot of money to have adventures! All of these moments will be profound and life changing if you let them. They will help you grow into a more experienced, better you. So get out there and go on an adventure, hey, go on as many as you can!
Peace
Despite the many awesome sides of summer, I sometimes find that it can also be the craziest time of the year. Life happens, things get crazy, and sometimes it gets overwhelming. Whether it's bad news, drama, whatever, I wish for you to find a calm peace when you need it. For all your crazy adventures, it's also important to give yourself time for quiet reflection and self care. Everyone is different, so you might have to dig a little for something that works for you. Some of us enjoy reading to bring us back to that calm, others like to watch a classic movie or go for a walk. You can do some meditation or yoga, practice your art or musical skills, or just follow the pull inside you and discover where it leads.
Excitement
It's not even summer yet, so some of you might not be happy with me saying this, but please read on to understand more. Summer is going to end. It's going to fly by and you are going to be left wondering where it went. You might even dread the start of school. I encourage you to challenge that! Find your excitement 😀 Whatever you couldn't fit in this summer, make a list and put it somewhere (even on your computer) so you can tackle it NEXT summer. Get pumped up about finishing any summer school you have and enjoying your last few weeks. Find your elation for Frosh and YorkFest. Remember (or imagine) all the good times you have with your friends on campus. You are going to make so many more memories this year. School isn't just about academics. If you didn't have an enjoyable year last year, there's nothing stopping you from changing that this year. Get involved, check out events, make new friends. Don't be afraid to let your inner child out so you can experience these great new times with the full excitement and wonder that you should!
—
Are you excited for the summer? What are your plans? Do you have any wishes that you want to share? Comment below!
-M